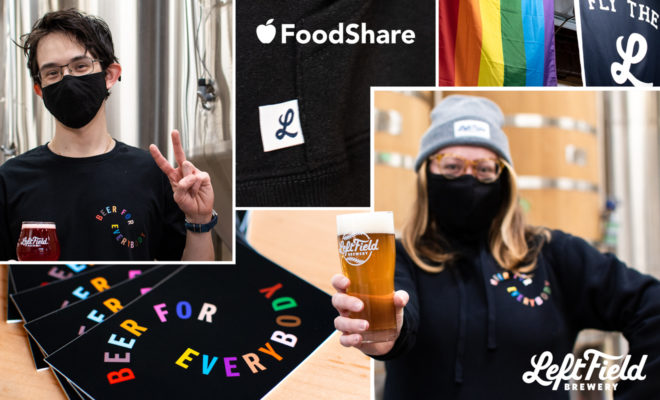 BEER FOR EVERYBODY
A phrase we've long used around the brewery is Beer is for Everybody. 
This has always meant that beer is and can be for everyone, even for those who believe they may not like beer (there is a beer style for you, you just haven't found it yet 😉) Philosophically, Beer For Everybody carries greater meaning and reminds us that beer is for those who haven't always been welcomed into beer spaces and experiences. It means that beer can be a powerful tool to build community, to bring people together and to drive positive change. In a literal sense, we know that beer is not for everybody. For those who choose sobriety and for those not of legal drinking age – we respectfully acknowledge how and why this sentiment will not resonate and continue to welcome you into our community. 
At Left Field, we believe in a just and equitable society for all. We do not tolerate discrimination on the basis of race, gender, gender identity and expression, sexual orientation, religion, differing abilities, physical appearances or any other human differences. This is the case not only between our own four walls but also within our communities and has been at the core of who we are as an organization since we first opened our doors. We remain committed to actively upholding these values over the long term.
Today we are proud to announce the launch of Beer For Everybody, an initiative to showcase and support local organizations that work to dismantle systemic inequities. On day one, this initiative will include fundraising through the sale of apparel, beer and merchandise and leveraging our voice and platforms to highlight the mission and impact of these organizations. It also marks the beginning of an annual BIPOC brewing college scholarship. Beer for Everybody is not a campaign, but rather a statement of our beliefs and a name under which we will continue to take action to uphold our commitments to equity and inclusion.
We are thrilled to have FoodShare as our very first Beer For Everybody beneficiary. FoodShare has been a leader in the food movement since 1985. They focus on food justice by working to dismantle oppressive structures that hold poverty and food insecurity in place. They collaborate with and take their cue from those most affected by poverty and food insecurity—Black, Indigenous, People of Colour, People with Disabilities. Together they advocate for bold public policy interventions, offer innovative food education and nutrition programs, and increase access to fresh, nutritious food. Each year they reach over 260,000 people.
From now until March 2021, 100% of profits from all Beer For Everybody apparel will be donated to FoodShare, along with $2 donations from the sale of every Sampler 6 Pack in October and November (we've already raised over $1,000!) Our intention is to continuously evolve the B4E line up and to add new community beneficiaries with each season to help make as great an impact as possible. Learn more about these new items and pick yours in the Fan Shop or at the brewery.
Niagara College Scholarship
Along with the apparel initiative, we wanted to do more to help foster diversity, inclusivity and equity in beer. We are excited to share that Beer for Everybody has also taken life in the form of an entrance scholarship for BIPOC students (Black, Indigenous and People of Colour) to the Niagara College Brewmaster and Brewery Operations Management diploma program. Niagara College was a natural choice for us as three of our team members are grads of the brewing program. The $3,000 annual scholarship will be awarded in three increments of $1,000, to one student in each of the three annual course intakes starting January 2021. Applications open December 1st! Learn more about eligibility or apply here!