It's been a minute since we released anything from our foeders. Make some noise! Shea Brett IPA is here, and we're so excited to have this one landing in the shop! Bursting with juicy pineapple and bright citrus, Shea IPA is brewed and dry hopped with Ekuanot, El Dorado and Amarillo hops and fermented with Vermont Ale Yeast and Brettanomyces in our oak foeders. Golden in colour, this complex and hazy IPA is medium bodied with subtle flavours of spiced clementine, cantaloupe and hay with a dry finish.
Foed for thought! A foeder (pronounced FOOD-er) is a large fermentation and aging vessel made of wood. The foeders allow us to separately ferment and age beer with wild yeasts such as Brettanomyces and other bacteria without infecting our other tanks and equipment dedicated to 'clean' beer. Since the tanks are made of oak these yeasts and bacteria will live in the wood forever and carry over from batch to batch. Foeders also have a high beer to wood ratio, meaning we're less likely (and in this case, not looking for) wood characteristics in the beer, compared to when we use oak barrels. While they have their place for certain beers, barrels can also be a LOT of work to fill, empty, stack, store, sample, etc., meaning our foeders are not only more efficient, but also give the brewers more control over the process to create more consistent, complex and flavourful beers!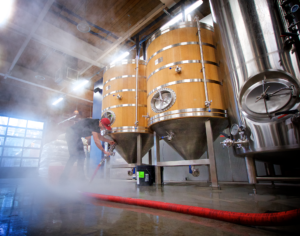 In January 2019, we installed two foeders that are made of entirely New American White Oak from Foeder Crafters of America. They're uniquely shaped like a fermenter with a stainless steel conical bottom (as opposed to flat-bottomed), which allows for easy dumping of hops, yeast and fruit. There's a super neat cooling plate inside each foeder that helps regulate the temperature of the tanks so that we can crash cool them as we would a stainless fermenter, for cold aging. 
Gotta have that funk! Greek for 'British Fungus,' Brettanomyces is a 'wild' yeast impacting the flavour of beer. Not really named after the Brits, but after a brainy beer loving scientist observing spoilage of English Ales, Brettanomyces can have a polarizing flavour profile. Clove, leather and horse blanket are common descriptors, but Brettanomyces can also achieve a dry mouth feel, and add subtle funk, and earthy flavours that can complement different beer styles. 
Did you know? Co-owner Mark Murphy's favourite baseball player, Nolan Ryan, got his Major League debut pitching for the New York Mets at Shea Stadium in 1966. Mark owns over 300 Nolan Ryan baseball cards, and has loved this hall of famer since he was ten years old. Ryan leads the league in all time strikeouts as well as no-hitters. 
Beer fermented in our foeders are created in smaller batches. Be sure to grab a bottle while they last!